Will Partition Recovery software work with SCSI disks and RAIDs?
Problem:
I have RAID array of SCSI disks, and I'm not sure whether Active@ Partition Recovery will work with them or not.
Answer:
Active@ Partition Recovery for Windows should recognize any drive recognized by Windows. Some SCSI drives/devices are configured on a BIOS/Adapter level, and visible in the BIOS and thus accessible by our recovery software. Some SCSI drives require Windows drivers for the software to work. The best way to determine if the software will recognize the drive is to use the free demo. If it can see the drive / partitions, the purchased version should work just fine.
If a SCSI/RAID disk is not visible in the Computer Management panel when Windows boots up (for example, when booting from the Active@ Boot Disk), we recommend that you check SCSI adapter manufacturer's web site for appropriate drivers, load them up, and try to recover the partitions again.
For example, this is how Intel Management Console displays information about built-in RAID0 in Sony VAIO-Z: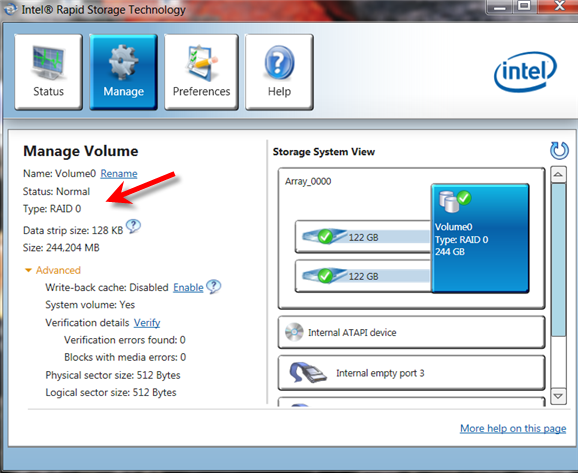 ... and this is how Active@ Partition Recovery displays information about RAID0 and partitions located on it: